The sun is shining brightly. From afar, I could see log cabins lining the horizon. Across the road, a bandwagon is parked beside a shop. It is quiet that day except for the occasional wind blowing the sands and forming a swirl. Once a while, saloon doors of the shop swinging following the wind blow and making a creaking sound. It all sounded like a scene in a cowboy movie, right? Well, if you think you have to go to Texas just to have that feeling, you might be wrong. Ladies and gentlemen, welcome to the Eagle Ranch Resort, Port Dickson, Malaysia.
I have always love cowboy movie and when I first know about the Eagle Ranch Resort, I was ecstatic. I still remember vividly that I was on a work trip to Port Dickson that day when I saw the huge billboard, showing the directions to the Resort. I was in my former boss' car since he insisted that he wanted to drive. As we passed the billboard, I asked him "Sir, can we drop by the Eagle Ranch Resort on the way back?" in which he answered in affirmative.
We settled our work and it was time to head back to Kuala Lumpur when my former boss gave the signal to turn into the Resort's entrance. I was so awestruck when I see how cowboy-ish the Resort is with all the wooden details and the cowboy-like architecture. "Are we in Texas now?", I asked him. He laughed as we both entered into the Resort to see what they have in offer.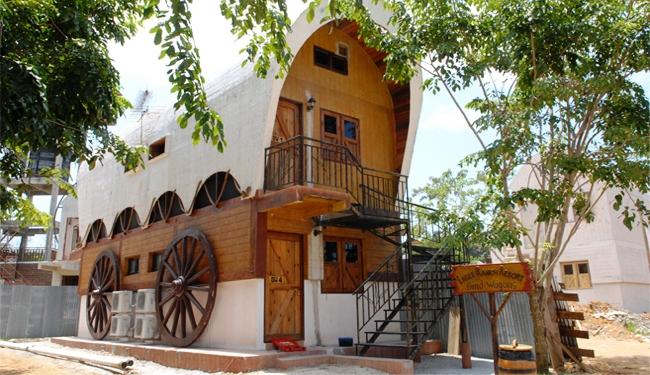 To be honest, the view inside the Eagle Ranch Resort is really like the scene in the Wild Wild West. We walked around and saw that they have many types of accommodations – Tepees for those who want to feel like they are Native Indians camping, Log Cabins for the ones who feel like they are having a holiday in one of the chapters of The Virginian by Owen Wister, Paddock Chalets for those who want to feel like they are cowboys, Bandwagon for the surreal experience and Kampung House for those who still want to feel at home despite the alien surroundings.
Then, we looked around to see what are the activities that can be done at the Resort. We are shocked when we realized that there are a lot of activities that can be done in this themed Resort. Whether it is for company's teambuilding or for family bonding session, Eagle Ranch Resort has tonnes of activities that can be done. Some of the activities that can be done at the Resort are horse riding, volleyball, go-karting, rope course challenge, paintball, sea rafting, jungle trekking, dirt cart, flying fox… you name it! Plus, there is a huge swimming pool where we can soak to cool down from the heat.
I was so excited when I knew about all the activities that can be done here. "Sir, why not we have a teambuilding here?", I asked my former boss. "Sounds great, Khairul! But, there are only the four of us. I think we can just build our team in the office", my former boss replied jokingly. We thanked the people at the Resort for giving us the chance to see how it looks like inside the Resort. On my way back to Kuala Lumpur, I could not help but to think how great it would be to stay at the Eagle Ranch Resort. I started having plans to stay at the Resort with my family members and to spend some good quality time with them at the Resort.
Do you have such a plan like I did? If you do, Eagle Ranch Resort is now having best deals in cooperation with Traveloka. You can check the deals just by checking the best deals from Eagle Ranch Resort  . And next time, if you plan to book hotels or flights, you don't have to go anywhere else as doing so through Traveloka is a breeze. Through Traveloka's booking hotel online , you can find deals for your hotel stays and flights on Traveloka.